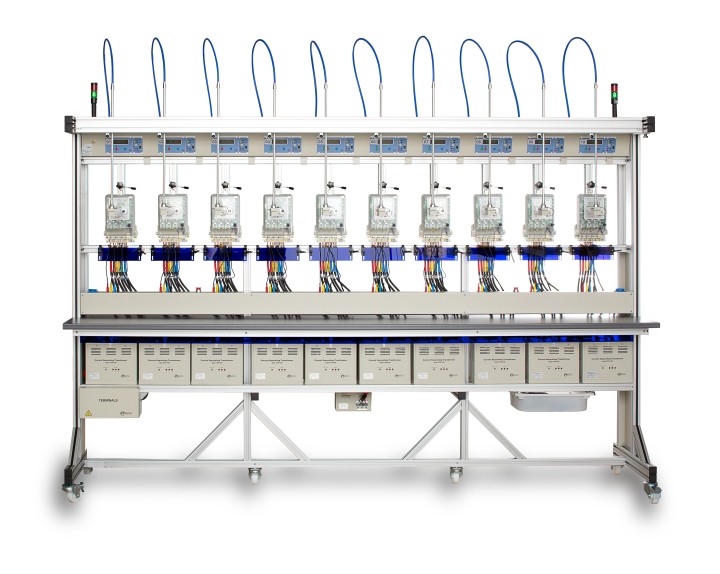 SR-3 Suspension Rack
Highly customizable construction
Durable mechanical construction of light and rigid aluminum profiles
Ergonomic and flexible rack arrangements
Time-saving mechanical solutions for meter testing
Signalization of incorrectly connected meters under test
Full range of safety features: fuses, relays, safety switches, warning lamps, protection shields etc.
Additional sockets for mains power supply
The SR-3 suspension rack is constructed from light and rigid aluminum profiles and is intended for three phase meter test equipment. The rack can be specified with any number of test positions. Test positions may be arranged in one or two rows and located on one or both sides of the rack.
ASTeL meter test equipment can be composed of one or more SR racks.
TEST POSITION
As a standard, each test position is equipped with:
relays for ON/OFF switching of the test voltage to the meter
voltage connection panel IPOD
FIXING THE METER
Meters can be installed on the rack using quick fixing device QFD and standard manual clamp or optional pneumatic clamp. The quick fixing device is intended to handle various types of meters, but variants for dedicated meters only are available.
The SR racks without the quick fixing device (free wires option) can be provided.
SCANNING HEADS POSITIONING
The scanning head's versatile mechanical construction enables its trouble-free positioning: up/down, right/left, forward/backward and horizontal rotating.
All scanning heads together can be moved aside.
SEPARATION FOR CLOSED LINK METERS TESTING
Testing meters with closed I-P links is possible with optional separating transformers installed. The SR-3 can be equipped with CTS Current Separating Transformers.
SAFETY FEATURES
In the standard version the SR racks are equipped with:
emergency stop buttons
indicators for the presence of dangerous voltage on the terminals of tested meters
fuses protecting individual voltage lines on each test position.
Additional safeguards such as light curtains, protective shields etc. may be provided upon request.
OPTIONAL ACCESSORIES
current cross connection panel
meter power consumption module
mains sockets
shelves
Other on-request accessories can be easily added.
ON ORDER SOLUTIONS
In addition to highly customizable SR racks, fully customized, made on order solutions are available.
Suspension rack model
SR-3
Type of tested meters
Single/three-phase
Material
Light aluminum profiles
Rack variants
Utilized sides
one or both sides
No of rows
one or two rows at each side
Number of positions
as per customer requirements
Rack length
Customizable
Height
Customizable
Width
Customizable
Meter fixing options
Quick fixing device QFD with manual or pneumatic clamp
Free wires
Separation options
Voltage
-
Current
Current separating transformer CTS
Product card
English
PDF